What Are Our Outdoor Signs Made Of?
All of our outdoor signage is made of recycled plastic lumber — the same materials that we use for our furniture. Also known as poly lumber, our plastic lumber is made of high-density polyethylene (HDPE) derived from recycled materials. Plastic lumber is utilized as an environmentally friendly alternative to traditional wood. Recycled plastic HDPE lumber is highly durable and resistant to fading from UV light, making it ideal for outdoor applications such as lawn furniture and signs. Regardless of your climate, plastic lumber performs in any environment.
Our outdoor signs made from plastic lumber are available to those across the country, from Florida to Alaska. The nonporous material holds up against wet weather conditions and isn't prone to cracking or splintering, like traditional wood is. Plastic lumber is also completely resistant to mold and rot, giving it a long-lasting appeal.
Additionally, plastic lumber can be molded into practically any shape for customized outdoor signs, without requiring a lot of additional forming, tooling and cutting. Custom outdoor signs can be built to your exact specifications and designs, incorporating your own branding into the final product with ease.

Things To Consider for Your Outdoor Signage
The first steps toward creating your own outdoor signage will involve many discussions and design meetings to help you get a good idea of what you'd like. Here are some additional things to consider when getting ready to order your new outdoor signs:
1. Size
Go big or go home? Or pleasantly understated? The overall size of your outdoor sign is going to depend a lot on its purpose. Do you want a city welcome sign to greet people to your town? Or are you a homeowner's association looking for a sign to let visitors know they've come to your lovely neighborhood? You're most likely going to want a bigger outdoor sign than what you might find in a park or along a nature trail.
2. Location
As with most things in life, your customized outdoor signs are all about location, location, location. Placement of your high pressure laminate signs is an important consideration depending on their purpose. Outdoor informational signage, such as park maps, should be highly visible and placed in high-traffic areas like trailheads and entrances. For park signs and state park signage placed along hiking trails, however, you want them to be smaller and kept in non-distracting areas that won't disrupt the hiker's enjoyment of the natural environment. Keep the location in mind when deciding on your signs.
3. Cost
There are two major costs when it comes to outdoor signage: initial costs and upkeep. Permanent outdoor signs made from other materials such as wood and concrete have costs associated with repairing fasteners and replacing rotted wood or rusted areas, as well as touching up or redoing paint and stain jobs. Outdoor signs made from high pressure laminate and plastic lumber have little to no upkeep costs. Poly lumber is also cheaper than concrete and easier to work with in terms of your designs and desired imagery. For more information, check out our plastic lumber cost comparison guide.
4. Colors & Images
Few materials are easier to work with than plastic lumber and high pressure laminate when it comes to the color and image design of your custom outdoor signs. The number of color and image options for your custom outdoor signs is nearly limitless as the color and shape are all determined prior to creation. That means we can build outdoor signage for you that incorporates your branding or text directly into the material. Here are all the capabilities we have with plastic lumber:
Unlimited fonts
19 UV stabilized colors
Additional color combinations with epoxy and color-fill
Modular frame systems
Digitally printed vinyl logos
Routed custom outdoor signs
What Kinds of Outdoor Signs Are Available?
A complete list of available outdoor signs would be impossible to cover, as our designers and clients frequently invent new applications for custom signage. Here is a list of the most common uses for custom outdoor signs:
Other Outdoor Signs We Offer
In addition to all of our available HDPE signs, Bright Idea Shops also makes custom outdoor signs in additional materials:
High-Pressure Laminate (HPL) Signs
Able to withstand rigorous outdoor conditions, HPL signs can be colorful and informative additions to your outdoor signage. HPL is fully customizable with colors, graphics and text. Easy to install and long-lasting, HPL signs are great for trailhead maps, nature centers and other points of interest.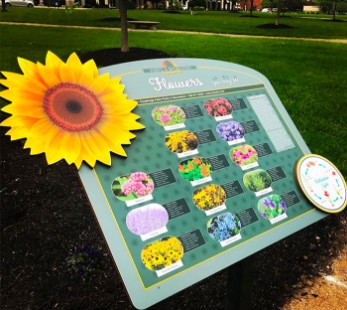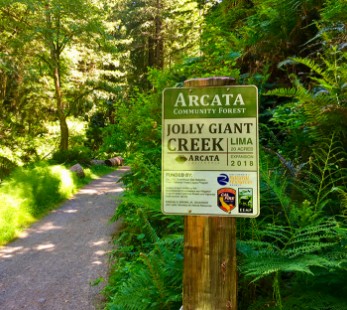 Aluminum Signs
Attractive, durable aluminum signs are great for informative signs with a lot of text as they present clear, concise directions. Aluminum signs sit at the intersection of affordability and durability, making for great economical options that don't sacrifice quality.
White Oak and Red Cherry Routed Signs
Using a routing tool, we can create wood signs out of white oak and red cherry wood. If you want the rustic appearance of sand-blasted wood, we can create a customized outdoor sign for you.
Start Your Outdoor Sign Project Today
At Bright Idea Shops, we know that every outdoor sign project is unique. We get excited working on fun and creative projects, like these custom map boxes, for our clients. Customers come to us at every stage of their development process and we help them sharpen their ideas into creative solutions. Start creating your custom outdoor signs today. For more information on recycled plastic lumber, custom outdoor signs or information on pricing, reach out and one of our experts will help you every step of the way.
Articles Related to Outdoor Signs