Parks & Recreation Outdoor Park Furniture
Public park designs would feel incomplete without durable, high-quality outdoor park furniture. Bright Idea Shops creates a number of quality park products that make your recreational areas more comfortable. You can also find durable park products that promote cleanliness in your outdoor spaces without distracting from the scenic landscape. When it comes to recreational areas and parks, furniture from Bright Idea Shops is the perfect combination of form and function.
Shop Outdoor Park Furniture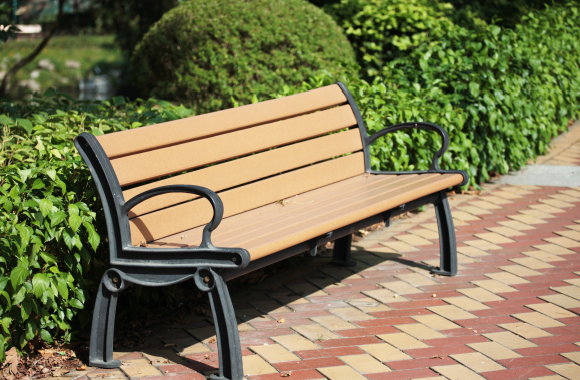 Enhance the Guest Experience With Park Outdoor Furnishings
Commercial park products are an integral part of public park designs. You need quality outdoor furniture whether your park systems include elements like trails, patios, picnic areas, recreational facilities, playground equipment or just open greenspaces. Your park's furniture should be:

Durable
Your outdoor park furniture should be sturdy and long-lasting.

Low-Maintenance
The best public park outdoor furnishings require minimal maintenance and upkeep.

Functional
Just like your public park design, your park seating should be comfortable and functional without distracting from the natural environment.
Commercial Park Products Made With HDPE
Bright Idea Shops uses high-density polyethylene (HDPE) to produce park products that meet the demands of your public park designs. HDPE — also referred to as plastic lumber — is an environmentally-friendly plastic material that resembles real wood. The major difference between them is that HDPE is not prone to warping, rotting or breaking. Outdoor park furniture made with plastic lumber can withstand all kinds of weather conditions from extreme heat to heavy rainfall without splitting or deterioration.
HDPE is used to make quality park products that require very little maintenance and last longer than park furnishings made from traditional wood materials. Everything from park trash cans to picnic tables can be produced using HDPE and our custom extrusion processes.
Frequently Asked Questions About Our Outdoor Park Furniture
Parks and recreational facilities have a variety of furnishing needs. Bright Idea Shops specializes in outdoor park furniture and quality park products for dozens of applications. Learn more about our custom solutions and other resources with some frequently asked questions regarding our park furniture.
How Long Will My Park Furniture Last?
Park furniture made from lumber has a typical lifespan of 8 to 10 years. For your outdoor park, furnishings made with HDPE have a general lifespan of 15 years or more, depending on conditions.
What Kinds of Outdoor Park Furniture Do You Make?
We produce dozens of park products that you can find on our website. We make everything from park benches to picnic tables and trash receptacles. We also manufacture custom outdoor park furnishings and accessories such as signage, map boxes, lock boxes and more.
How Long Does Shipping Take?
Most orders for high-quality park seating are filled within a day or two. Custom items require additional design time and approval. Tracking information is available on all shipments. Products like our park trash cans may arrive in multiple parts. Overall shipping times vary based on quantity and region. For expedited shipping or special services, such as delivery to construction sites or residential areas, Bright Idea Shops can work with you to get your park products sent to their appropriate locations.
For Outdoor Parks, There's Furniture From Bright Idea Shops
Whether you need custom park seating for gazebos or outdoor park furniture for trails and lakes, Bright Idea Shops can build it for you. Our expertise with plastic lumber allows us to make everything from park trash cans to comfortable park seating using durable, recycled materials. Contact us today to learn more about Bright Idea Shops and our custom park outdoor furnishings for recreation facilities.
Shop Outdoor Park Furniture