Artisan Outdoor Furniture
Why artisan furniture? We know you want your outdoor furniture to be functional — sturdy, well-built, durable and comfortable — but you also want it to look great. Good-looking unique outdoor furniture can serve as a fantastic centerpiece for your outdoor space. Whether you're enjoying some alone time on your deck or patio or inviting a group of friends and family, the artisan furniture collection from Bright Idea Shops has exactly what you need to create an inviting and comfortable space.
What Is Our Artisan Furniture Collection?
The outdoor artisan furniture from Bright Idea Shops combines all the features and benefits of durable, recycled plastic lumber with original metal artwork crafted by master sculptor Don Drumm to craft unique patio furniture. From artisan planters to bird themed furniture, our beautiful outdoor furniture is weather-resistant and will never need to be painted.
Whether you shop our artisan tables or other pieces, you can rest assured knowing they won't fade, crack, peel or splinter. Browse our selection of Bright Idea's artisan furniture for chairs and decor to find the perfect addition to your outdoor seating area. Help the environment by buying recycled-content products. Each chair removes 295 plastic milk jugs from the waste stream.
About Bright Idea Shops
Handcrafting outdoor unique patio furniture since 1989, Bright Idea Shops is a privately held company located in Akron, Ohio, founded by "Akron Al" Robbins.
Led by a team with expertise in recycled lumber sales and manufacturing and design, Bright Idea Shops has developed a reputation for producing quality products with innovative designs. Working with each customer individually, Bright Idea Shops thrives on excellent customer service.
Our most popular and unique outdoor furniture collections combine the benefits of durable, recycled plastic lumber with original handcrafted artwork customized by incorporating metalwork and other elements from the Don Drumm sculpture collection.
Known for his handmade and excellent craftsmanship, Don Drumm brings an added flair to the pieces offered by Best Idea Shops.

Curious About Outdoor Artisan Furniture?
If you're considering purchasing artisan furniture, you may have some questions about these pieces of custom outdoor furniture. Don't fret — we're here to help you make an informed decision. Click through our unique outdoor furniture selection to learn more about each piece and imagine how our weatherproof custom outdoor furniture will upgrade your patio seating area. If you have further questions, please contact us at any time and we'll be happy to help.
What Is Artisan Furniture?
Artisan outdoor furniture is a collection of handcrafted patio furniture made from recycled plastic material that includes eye-catching designs that are handcrafted by local artists. What is often seen as traditional furniture is transformed into something vibrant and unique because of the thoughtful craftsmanship that goes into each piece. Bright Idea Shops offers a full line of artisan outdoor furniture including Adirondack chairs, side tables, planters, plaques and are also available in locally inspired colors that will match your outdoor living area.
The Bright Idea Shops Advantage
Custom outdoor furniture is weatherproof. You can safely leave your furniture on your patio or in your backyard without concern that the weather will damage it in any way. Compared to traditional wood or metal pieces, the unique patio furniture you get from Bright Idea Shops will not fade in sunlight, won't splinter as the seasons change, will never rust in the rain or snow, will never crack or split, and you'll not ever have to paint it. When you consider the durability and lifespan of our artisan furniture, you can't dismiss the long-term value.
Good for the Environment
Because our unique outdoor furniture is made from recycled plastic, it's the environmentally friendly choice. If you're looking to make a conscious decision to reduce waste and improve the environment, this is the way to go.
Request a Quote Today
If you decide to purchase unique outdoor furniture, know that your purchases can be affordable. They can be relatively inexpensive when you consider that you will be ordering high-quality, handcrafted furniture that you'll appreciate for a lifetime. Bright Idea Shops welcomes requests for quotes on any available or potential pieces of artisan furniture.
Shop Artisan Outdoor Furniture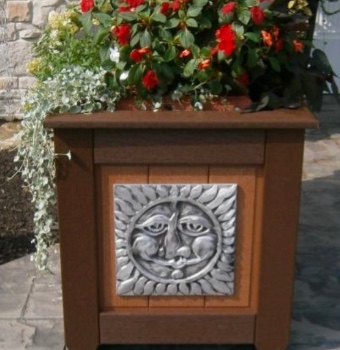 Learn More about Artisan Outdoor Furniture from Bright Idea Shops