Custom Restaurant, Park & Campsite Supplies
Do you have a project that needs a maintenance free solution? The HDPE material can be used to make more than furniture and signs. Everything is made in-house, and our experienced craftsmen can help guide you on creating a custom project out of the recycled plastic material that will never rot or rust. Check out photos here of past custom projects and let us know how we might be able to help you!

Your Destination for Custom Restaurant Supplies, Park Amenities & More
At Bright Idea Shops, we pride ourselves on our ability to adapt to the needs of every client through our custom solutions page. When we say customizable, we mean it. You can create custom outdoor creations and a plethora of other products in the shapes, styles and colors you want. Our in-house team of HDPE experts has perfected the art of creating products to fit the style and design of your choice. We've already put our team to work creating custom outdoor creations and park amenities, as well as custom restaurant supplies.
f you're looking for a hard-to-find, industry-specific or niche product – like in the case of custom restaurant supplies or park amenities – look no further than Bright Idea Shops. Our premium recycled plastic lumber can be molded to fit your needs. From flight paddles to custom outdoor lockboxes, there's nothing too complicated for us to create. Recycled plastic lumber gives you the benefit of customizing material that is:
Durable in all weather conditions
Colorfast
Resistant to cracking and splitting
Recyclable and environmentally friendly
Non-rotting
Affordable
Why Should I Consider Custom Recycled Plastic Material?
Recycled plastic lumber, also known as HDPE material, is a lightweight and environmentally friendly option for creating custom products. Known for its incredible tensile strength and durability, custom recycled plastic lumber is perfect for applications that require a robust and low-maintenance material. You can use HDPE for a custom outdoor creation, such as a map box or campsite permit holder, that is protected from elements like sun, wind, rain and snow and can remain durable for years spent outdoors. Unlike traditional park amenities made from wood, recycled plastic lumber won't succumb to rot and need to be replaced in a couple of years, and it won't crack or split after months of exposure to the elements.
It's also perfect for custom restaurant supplies, such as flight trays and tap handles. We can put your branding directly onto the material and customize its shape and colors specific to your restaurant. Recycled plastic lumber can withstand the hot temperatures from daily high-pressure kitchen dishwashers and remain in perfect working condition if dropped repeatedly. HDPE is also an extremely lightweight material, making it easy for restaurant employees to carry over to customers. Our custom acrylic sneeze guards also provide perfect protection for counters, food and customers, and are easy to transport and store.
How Can HDPE Material Be Customized?
You can easily customize HDPE material specifically for you. Our products make perfect additions as custom restaurant supplies because they can be branded, colored and shaped in any way. Flight paddles and trays are perfect examples. You can request your name and brand logo be placed directly onto the material and shaped to hold your glass sizes and the number of drinks offered in a flight. You can customize tap handles to include removable nameplates for restaurants with a continuously shifting array of beverages on tap, or you can shape the logo for the brand that remains a constant.
You can customize park amenities and custom outdoor creations in the same way. An address marker for your park can include your name, address and a photo of your choice. Whether you want a map box, outdoor lockbox or hope bird feeder, we can customize your park amenities to your exact specifications. At Bright Idea Shops, the possibilities for customization are endless.
What Should I Be Branding?
When it comes to branding, you have an enormous range of options to decide what should include your name and logo. We've seen branding be used for restaurant supplies such as flight trays, paddles and tap handles, but you can choose to brand anything. It's great to brand custom restaurant supplies that will be close to customers and reflect positively on your business. Outdoor planters can make your patio greener and more comfortable for customers while proudly displaying your name. Customized coasters, trash cans and recycling stations, and signs are also all great options.
Branding park amenities with the park's name is also beneficial. Branding on custom outdoor creations can always remind park-goers which park they're enjoying. Benches, signs, playground equipment, trail markers and map boxes can all be outfitted with your park's name for optimal exposure.
Order Your Custom Outdoor Creations, Park Amenities and Restaurant Supplies Today
No matter your need for custom products, Bright Idea Shops can help. Get started on creating your idea today by requesting a quote.
Click Here to Request A Quote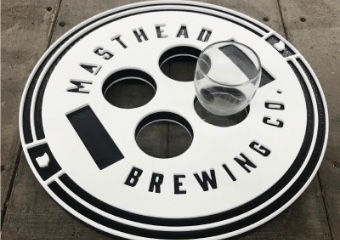 Resources Related to Park Amenities & More
Custom Solutions & Ideas