Outdoor Message Center Signs
Outdoor message centers are an excellent way of interacting with and guiding your visitors, guests, and patrons as they experience your business. Explore outdoor community and park bulletin boards made from recycled plastic.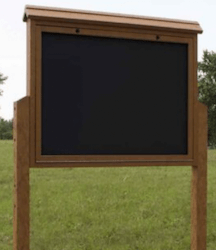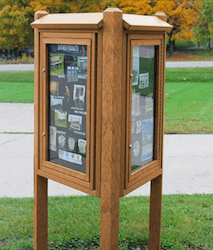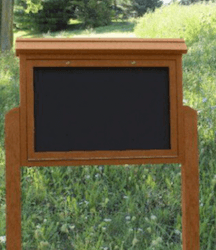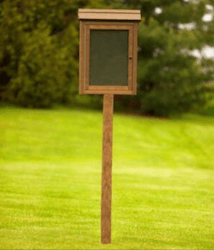 Customize Your Message Center Signs and Displays
Bright Idea Shops offers a variety of outdoor message center signs for you to choose from to suit your needs. Our selection features single, double, and triple-sided window boxes, and all are designed to be secure and safe from theft and vandalism. They are also ideal for in-ground, surface, and wall-mount applications. For added security, we use stainless piano hinges mounted on the interior of each window and also include weather resistant locks.
Types of Message Center Signs and Displays
There are several types of community message center signs and displays that can be used to communicate important information to your audience. Here are the available message center sizes and options available from Bright Idea Shops.
Outdoor Message Centers

Small Message Centers

Small Message Center - 1 Sided/No Post
Small Message Center - 1 Sided/1 Post 6'
Small Message Center - 2 Sided/1 Post 6'
Small Message Center - 1 Sided/1 Post 8'
Small Message Center - 2 Sided/1 Post 8'

Viewing area: 20.125 x 14
Post: 4x4
Colors: Black, Green, Brown, Cedar, Charcoal, Sand, Weathered

Medium Message Centers

Medium Message Center - 1 Sided/No Post
Medium Message Center - 1 Sided/1 Post 6'
Medium Message Center - 2 Sided/1 Post 6'
Medium Message Center - 1 Sided/1 Post 8'
Medium Message Center - 2 Sided/1 Post 8'

Viewing area: 32.125 x 20
Post: 4x4
Colors: Black, Green, Brown, Cedar, Charcoal, Sand, Weathered

Large Message Centers

Large Message Center - 1 Sided/No Post
Large Message Center - 1 Sided/1 Post 6'
Large Message Center - 2 Sided/1 Post 6'
Large Message Center - 1 Sided/1 Post 8'
Large Message Center - 2 Sided/1 Post 8'

Viewing area: 44.125 x 32
Post: 4x4
Colors: Black, Green, Brown, Cedar, Charcoal, Sand, Weathered

3-Sided Kiosk Message Centers

3-Sided Kiosk - 6' posts
3-Sided Kiosk 6' post 2-blank sides
3-Sided Kiosk 8' post 2-blank sides
3-Sided Kiosk 6' post 1-blank side
3-Sided Kiosk 8' post 1-blank side

Viewing area: 31.125 x 20
Post: 4x4
Colors: Black, Green, Brown, Cedar, Charcoal, Sand, Weathered
Message Centers Addons
Large Message Center Literature Rack
Medium Message Center Literature Rack
Small Message Center Literature Rack
Menu Enclosure
Surface mount post bracket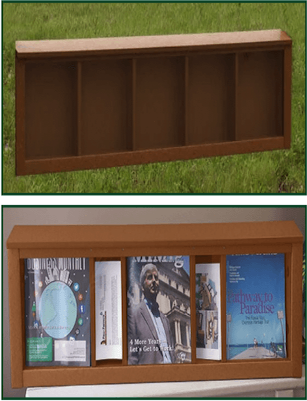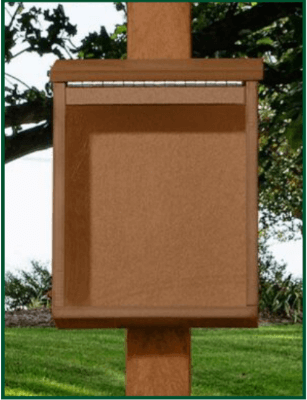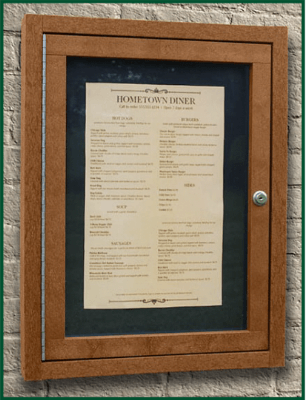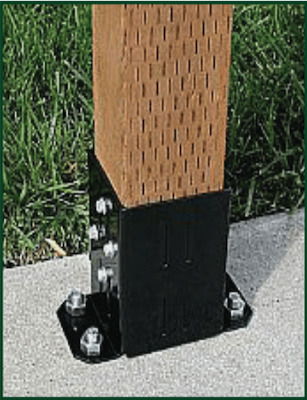 Color Options

Why Message Centers From Bright Idea Shops
Made of recycled HDPE plastic
Personalize your the post or roof of your unit with your name or message, ask us for options
Poly-carb window is scratch-resistant and stronger than acrylic
Ships fully or partially assembled with mounting hardware
Recycled rubber tack board can't mold or rot
Locking door and interior hinge mounting make it secure
20-year commercial warranty
Made in the USA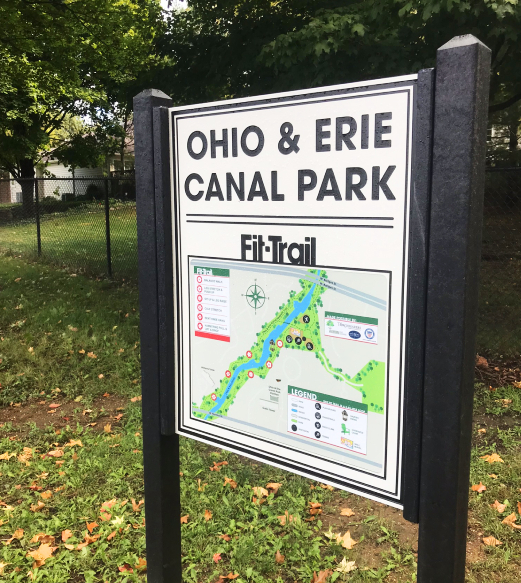 Related Articles to Outdoor Message Centers