Parks & Recreation Signs and Park Plaques

You want your custom parks and recreation signs and plaques to do three things: convey your message clearly, look fantastic and last forever. At Bright Idea Shops, our outdoor signs for sale are made from 100 percent recycled HDPE plastic, so you know they are completely maintenance-free. As far as looks go, we offer various customizable options to ensure your sign grabs everyone's attention.
Your Sign, Your Way
You want people to notice what you have to say. Whether that means telling them where to park (or not to park), prominently displaying store hours or broadcasting your brand, you want your message to get attention. We have the tools to make sure your custom outdoor sign gets noticed.
Outdoor Park Sign Installation Options
Every park and recreation sign design and installation is different and the expert design staff at Bright Idea Shops are here to ensure every design and choice of material is the correct one for its site. The following HDPE signage information will help you determine the best options for design styles, color choices, and post-installation options.
Install & Mounting Options

Sign Dado Installation Instructions and Guidelines

Dados are important when assembling a sign between two posts. They are the medium used that will allow you to attach the sign to the posts. The dado is made by ripping a 3/4" deep by 3/4" wide groove down its entire length of a plastic lumber 2x4. The length is custom cut to your sign's height.

View Sign Installation Guidelines

Available HDPE Sign to HDPE Post Mounting Options

All signs and posts are customized to fit your project. For signs larger than 24" wide we recommend using 2 posts or a brace. For Signs with a span over 72" wide we recommend using a center post or brace.

View HDPE Post Mounting Options

Available HDPE Post Finish & Post Color Options

Bright Idea Shops HDPE sign posts are available in 14 color combinations and eight different post-top finish options. HDPE posts will not rust, rot, or delaminate. They are easy to clean, splinter free, and ideal for any climate. Choose HDPE plastic material for your next sign project.

View HDPE Post Finish Options
Promote Your Brand With Your Logo
Custom artwork and custom logos are our specialties. We can design a logo for your custom outdoor signs or we can integrate your existing artwork with digitally printed vinyl logos.
Plenty of Options for Outdoor Custom Signs
Choose from a variety of colors and fonts to make your sign stand out or blend perfectly with your business's aesthetic.
Wooden Signs
If an authentic wooden custom outdoor sign is your thing, we offer sand-blasted wood signs available in routed white oak or western red cedar.
HDPE Means Maintenance-Free
Our recycled plastic products are maintenance-free. Whether you're talking about our picnic tables, park benches, waste receptacles or our custom outdoor signs, our HDPE plastic products will withstand weather and wear. Simply wiping them clean from dirt and debris or pressure washing will be your only maintenance for years to come.
Made from recycled plastic with fiberglass reinforced posts
Maintenance-free signs will not splinter, fade, crack or rot
No painting necessary
Recycled plastic is environmentally friendly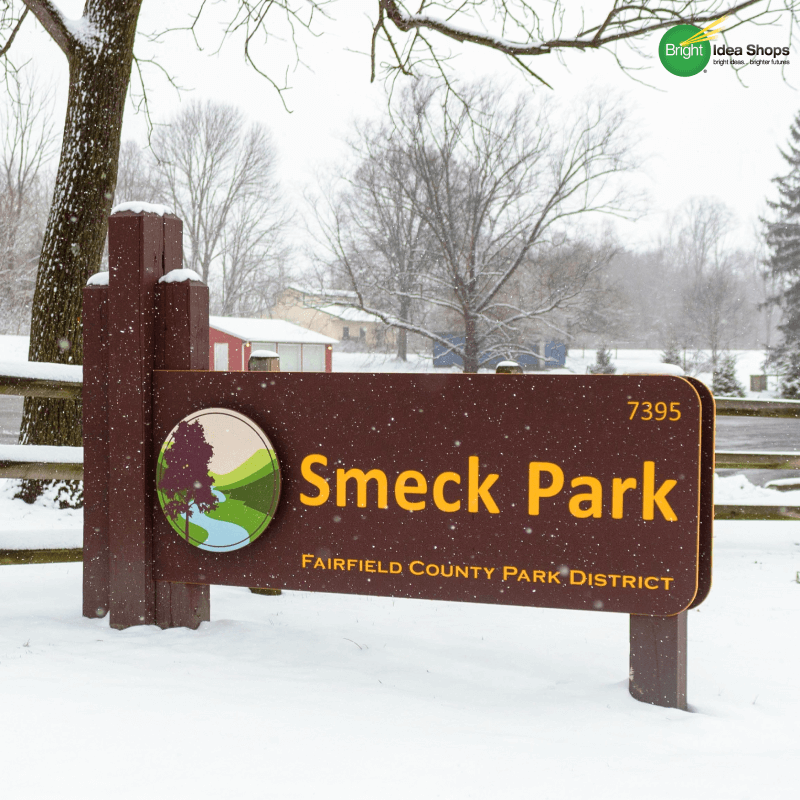 Signs For Parks & Recreation Related Articles