Outdoor Signs for Parks & Recreation

You want your custom outdoor signs to do three things: convey your message clearly, look fantastic and last forever. At Bright Idea Shops, our outdoor signs for sale are made from 100 percent recycled HDPE plastic, so you know they are completely maintenance-free. As far as looks go, we offer a variety of customizable options to make sure your sign grabs everyone's attention.
Your Sign, Your Way
You want people to notice what you have to say. Whether that means telling them where to park (or not to park), prominently displaying store hours or broadcasting your brand, you want your message to get attention. We have the tools to make sure your custom outdoor sign gets noticed.
Promote Your Brand With Your Logo
Custom artwork and custom logos are our specialties. We can design a logo for your custom outdoor signs or we can integrate your existing artwork with digitally printed vinyl logos.
Plenty of Options for Outdoor Custom Signs
Choose from a variety of colors and fonts to make your sign stand out or blend perfectly with your business's aesthetic.
Wooden Signs
If an authentic wooden custom outdoor sign is your thing, we offer sand-blasted wood signs available in routed white oak or western red cedar.
HDPE Means Maintenance-Free
Our recycled plastic products are maintenance-free. Whether you're talking about our picnic tables, park benches, waste receptacles or our custom outdoor signs, our HDPE plastic products will stand up to weather and wear. Simply wiping them clean from dirt and debris or pressure washing will be your only maintenance for years to come.
Made from recycled plastic with fiberglass reinforced posts
Maintenance-free signs will not splinter, fade, crack or rot
No painting necessary
Recycled plastic is environmentally friendly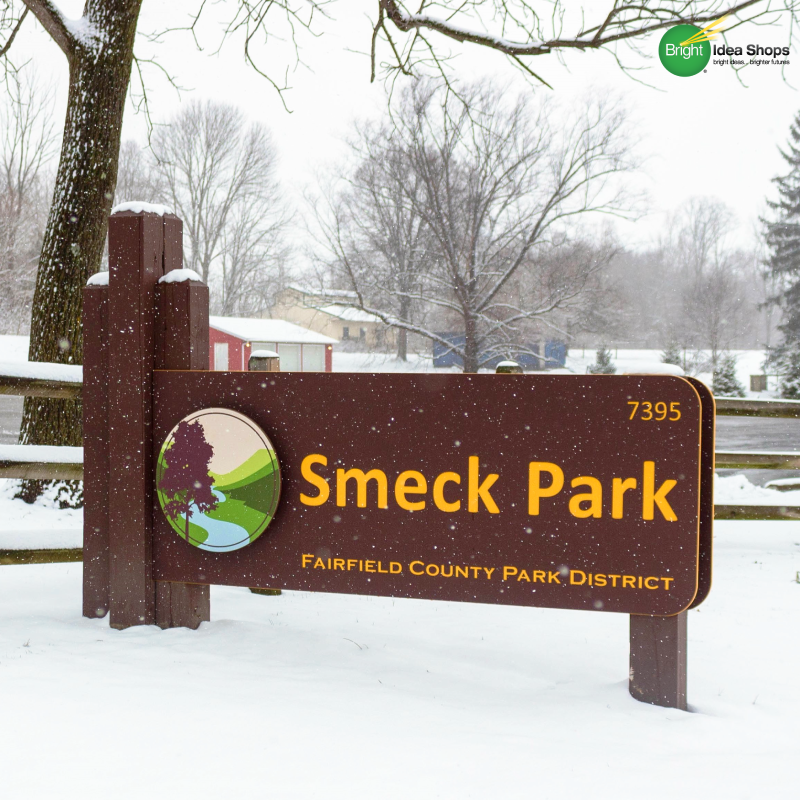 Signs For Parks & Recreation Related Articles