Yosemite Picnic
Yosemite's Recycled HDPE Plastic Lumber Solution -- Bright Idea Shops Hexagon Picnic Tables and Recycled HDPE Plastic Lumber
 
Over a decade ago, Yosemite National Park started replacing their wood and fiberglass picnic tables with Bright Idea Shops popular recycled HDPE plastic lumber hexagon shaped picnic tables because they needed to rely on tables that could endure the constant high use as well as severe environmental changes.
 
Yosemite National Park's Curry Village is the largest lodging area within the park and serves as the base for a majority of the iconic hiking trails. Yosemite National Park welcomes roughly 8,000 to 10,000 visitors per day.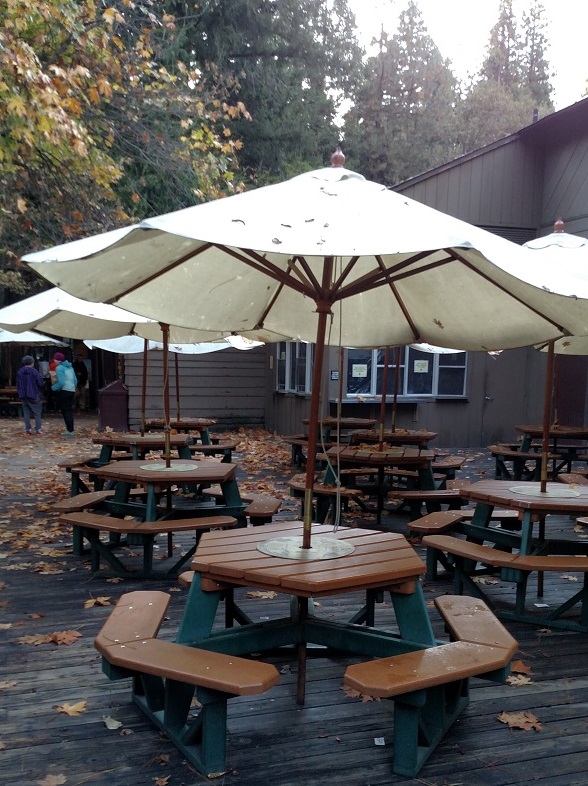 While visitors are at Curry Village they can eat at the Meadow Deck Grill, Pizza Deck, and the Curry Bar. The hexagonal picnic tables at these locations are made by Bright Idea Shops from recycled high density polyethylene (HDPE) also known as recycled plastic lumber.  
 
Delaware North Companies (DNC) Parks & Resorts at Yosemite, authorized park concessioner, selected the recycled HDPE plastic lumber tables because of the post-consumer recycled content, life-cycle, color options, low maintenance, and resistance to stains and graffiti.
The recycled HDPE plastic lumber hexagonal and traditional tables with a green base and tan top are in the elements year-round. The hexagon and traditional tables are wheelchair accessible and are easily identifiable with blue end caps. 
"We started purchasing the plastic lumber tables from Bright Idea Shops about 13 years ago and continue to expand our stock by replacing both the old wood tables and the fiberglass tables with the plastic lumber tables," says Dan Cornforth, general manager of Curry Village and Housekeeping Camp. "The wood tables just aren't durable enough. The finish is the biggest issue because the wood tables continually need to be refinished or wood warps and splinters." Fiberglass tables need to be painted. Cornforth has also had problems with the fiberglass chipping and creating sharp edges.
 
Recycled HDPE Plastic Lumber Tables
"Our tables are made with plastic lumber from post-consumer recycled products such as milk containers or plastic containers labeled with the number 2 recycling symbol," says Alan Robbins, owner Bright Idea Shops. "High quality recycled HDPE plastic lumber is created from only a single type of recycled plastic stream and contains no fillers." 
 
To create the high quality recycled HDPE plastic lumber, post-consumer plastic lumber is finely milled and melted. Plastic lumber created from milk containers is colorless and light stabilized pigments must be added to achieve the selected color. The result is formed plastic lumber that is uniform in color throughout the non-porous board.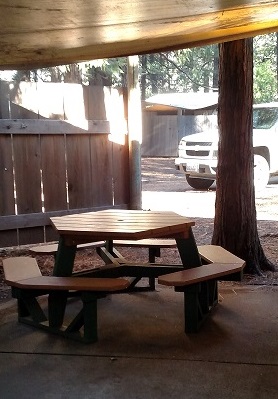 Ultraviolet (UV) stabilizers are added to protect the finished recycled HDPE plastic lumber from chalking and the colors from fading. Bright Idea Shops uses a hindered amine light stabilizer (HALS) because it is effective at preventing degradation of the recycled HDPE plastic lumber. 
Bright Sites
For venues looking to match branding colors or liven up their common areas, Bright Idea Shops introduced a new line, Bright Sites Hexagon Picnic Tables, which offers 19 different colors. You can choose different colors for the plastic lumber tabletops and understructure to design your own creative combination. 
The ever-popular recycled HDPE plastic lumber hexagon shaped picnic tables are commonly used in playgrounds, dining areas, schools, picnic areas or sports complexes.
 
Housekeeping Camp
At Yosemite's Housekeeping Camp 265 duplex units near the Merced River are open from April to October. The structures are three concrete walls outfitted with a canvas top, bed frames, storage shelf, and recycled HDPE plastic lumber picnic tables. At the end of the season, to weatherize the units, everything is pushed into the unit including the plastic lumber picnic table which is turned on end.
 
"We are replacing the fiberglass and wood tables that are at Housekeeping Camp with Bright Idea Shops plastic lumber picnic tables," says Cornforth. "The plastic lumber picnic tables hold up well even under six feet of snow and turned on end in the units."
 
The recycled HDPE plastic lumber tables have withstood the summer heat, fall rains, winter freeze, and spring thaw without any damage or need for refinishing. In fact, when the season reopens the plastic lumber tables just need wiped down.
Heavy Saves Time
Before being formed into lumber, the plastic lumber is injected with microscopic air bubbles which reduces the weight by 25 percent, adds surface texture, and improves the structural performance of the boards. Yet, even with the lighter weight recycled plastic lumber, the constructed tables still weigh enough to discourage theft.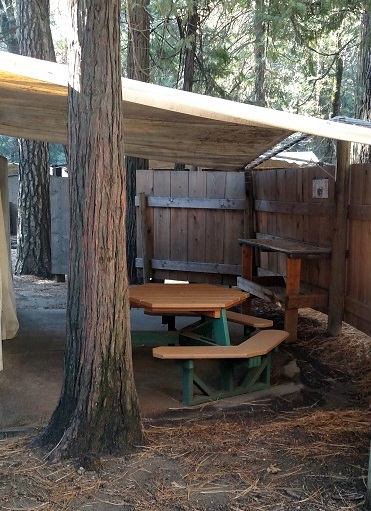 "Housekeeping Camp receives large groups and they might use 20 sites and the heavier plastic lumber picnic tables make it nearly impossible for our guests to move them around," says Cornforth. "This saves us several manhours each year in not having to move the tables back to the correct sites."
Graffiti Wiped Out
The non-porous commercial grade recycled HDPE plastic lumber boards have a smooth surface and a less than one percent water absorption rate. Commercial grade plastic lumber does not hold dirt, mildew, mold, paint, or marker ink. The basic nonporous nature of the plastic lumber makes it inhospitable for graffiti. Paint and markers can be hosed or wiped off with a soapy sponge or a diaper wipe.
"I love the tables and am continuing annual purchases for Housekeeping Camp until we complete the entire camp," says Cornforth. "Some people may look at the plastic lumber tables as being a fairly expensive initial purchase but the first tables I bought 13 years ago look just as good today." Recycled content picnic tables and benches may cost more initially but within two years the return on investment is met with the reduced maintenance costs. 
"The plastic lumber is easy to maintain and the stainless steel bolts don't rust which is important because guests perceive rust on tables as unclean," says Cornforth. "It is important for us to maintain our facilities with attention to detail, and the ease of care with these tables allows us the opportunity to focus on other items."
GreenPath
DNC is an industry leader in providing stewardship and hospitality in special places and part of that is the GreenPath program that focuses on making the best environmental decisions. The program has been ISO certified for more than thirteen years.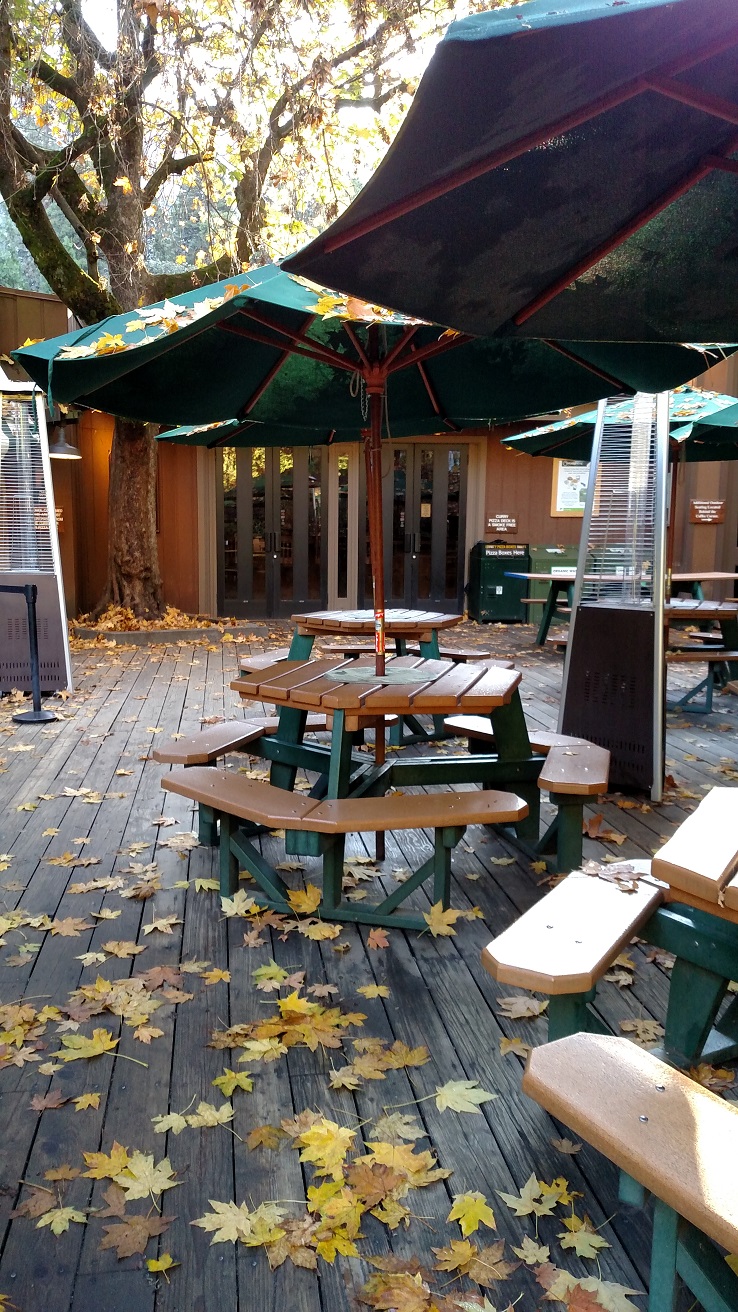 "Since the plastic lumber picnic tables are made with recycled materials, it makes sense for our GreenPath program," says Lisa Cesaro, public relations manager for DNC Parks & Resorts at Yosemite. "The plastic lumber tables are durable and we don't have to replace the tables as frequently as we might with another kind of table." Approximately 1600 milk jugs are diverted from the waste stream to the manufacturer just one 250 pound recycled plastic picnic table. 
DNC Parks & Resorts at Yosemite handles recycling at all of the land assignments in Yosemite National Park and in the last ten years 7,000 tons of steel, plastic, aluminum, and paper has been recycled and another 9,000 tons has been diverted through composting and reuse.
"We have a team of various employees who meet once a month to keep the initiative moving forward," says Cesaro. "Our goal with GreenPath is to take it to the next level and do something better each year."
Money for Plastic Lumber Tables
If your community recycles, your facility might qualify for a grant from your solid waste district to purchase the recycled HDPE plastic lumber picnic tables made from recycled post-consumer content. The milk containers that once had a ten-day life span are transformed into a product with a 50+ year life span which is an excellent visual display of the benefits of recycling. 
---